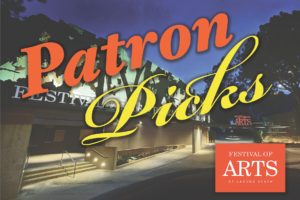 Excited & honored to be part of the Festival of Arts newest exhibit at Wells Fargo Bank, "Patron Picks"!
Patron Picks is a multi-media show representing twelve artists from the 2016 Festival of Arts summer exhibit. Artists represented include Mary Stewart Aslin (pastels), Christopher Wayne Allwine (photography), Yours truly, Ron Azevedo (photography),Joel Brown(photography),Jordan Dimitrov (sculpture), Brian Giberson(mixed media), Rick Graves (photography), Varsha Patel (printmaking), John Repka (oils), Barry Robin (wood), Fabrice R Spies (acrylics), and Patrick Whelan (oils).
The artists featured in this diverse exhibit were selected by Festival patrons who, by ballot, chose their favorite artists from last years art show.
If you're in Laguna, please drop by and enjoy the beautiful exhibit curated by the amazing Pat Sparkuhl. 
February 1 – April 12, 2017 – Admission Free
Artist Reception: Saturday, February 18th 11-1pm
Festival of Arts Third Floor Gallery
Wells Fargo
1006 S. Coast Hwy
Laguna Beach