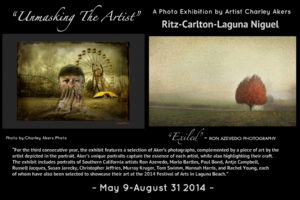 UNMASKING THE ARTIST AT THE RITZ-CARLTON, LAGUNA NIGUEL
May 9th – August 31st, 2014
A Photo Exhibition by Artist Charley Akers
What started as a simple creative endeavor for Asheville, NC-artist Charley Akers has turned into a tribute to Festival of Arts artists with a photography exhibition at The Ritz-Carlton, Laguna Niguel.
For the third consecutive year, the exhibit features a selection of Aker's photographs, complemented by a piece of art by the artist depicted in the portrait. Aker's unique black and white portraits capture the essence of each artist, while also highlighting their craft. The exhibit includes portraits of southern California artists Ron Azevedo, Marlo Bartels, Paul Bond, Antje Campbell, Russell Jacques, Susan Jarecky, Christopher Jefferies, Murray Kruger, Tom Swimm, Hannah Harris and Rachel Young, each of whom have also been selected to showcase their art at the 2014 Festival of Arts in Laguna Beach. The exhibit will be on display from May 8 to August 30, 2014.
Each portrait is captured with a style that often has Akers compared to his greatest influence, Yousuf Karsh. The iconic images of many of the greats, such as Hemingway, Churchill and Einstein, were captured by Karsh and are still held up as the purest representation of these individuals. Akers follows suit in his remarkable ability to disarm the subject and catch a singular moment of who the artist is at their core. Step two for Akers is the integration of artist and art through technology, illuminating the passion and craft of the creator. After a 35-year corporate photography career, Akers' enthusiasm and drive have allowed him to launch into this new artistic style with the eye of an expert and the heart of an artist.
"In any product or resort shoot I am given every element. What to shoot, where to shoot, when to shoot and how to shoot," said Akers. "With these portraits, I hold the creative control which allows me the freedom to get to know my subjects and bring the essence of who they are into the camera lens for the world to see."